A love story for beauty
Burato, For You
Focus on the environment
Burato for #iloveartesella
Burato: a story of love for beauty
The Burato brand, a synonym for simplicity and grace, is created for people looking for a jewel that breaks through existing schemes, leaving the wearer the freedom to interpret every outfit by adding a personal touch, making it unique and unrepeatable.
The Venetian origins
The world of jewellery is in the soul of Marta Burato, the brand designer, as she was immersed in it from childhood when her parents opened the first boutique in Jesolo in 1969, which offered a selection of some of the most prestigious jewellery brands.

The elegance and charm of nearby Venice fascinated young Marta and remained forever impressed in her heart, nurturing the ever-growing love for the city and its artistic and historical wonders.
Burato's roots lie in a family history made of passion for jewels with simple but refined lines, with a constant attention to the trends of the moment.
Burato, For You
In 2015 Marta creates the Burato collections, affordable luxury in gold jewellery, with which everyone can express in an authentic and inclusive way.

The idea is to create 18-karat gold pieces with simple lines, elegant enough to be worn every day and often a symbol of a bond or a special moment.
Burato collections are dedicated to travelling souls, who love the poetry of nature, art and music. They are dedicated to those who want to express themselves through beauty, quality, and ethical consumption.
Women for Women
Femininity, as expressed by Burato, is a state of mind characterised by sensitivity, harmony and respect.

However, women play a decisive role within the Burato universe, from the design of the jewel, where high precision and attention to detail make for ideal tools for the creation of small, intricate jewels.
Burato presents a free and courageous woman, a woman in which a multitude of roles and attributes coexist: friend, partner, mother, romantic, dreamer, sportswoman, courage, strength, determination and much more.
"The passion for the jewellery world and for design drives me and flows through all aspects of life. Poetry can be found in every little thing."
Marta Burato
Sustainability and attention to human rights
Burato collections are made with materials sourced only from controlled supply chains, with the production process focusing significantly on human rights.
"Nature is given to us to be taken care of, personally I feel responsible about every action I make, and how it might influence the future of the planet and its inhabitants"
M.B.
Focus on the environment
Numerous are the initiatives that have seen Marta and her family involved in taking a stand on climate preservation. From the trees donated to the city of Jesolo, to the Arte Sella project, which was born after the 'Vaia' storm of 2018 that destroyed more than 20.000 hectares of forest.

"I have known Arte Sella for more than 10 years, I feel a very strong love towards the mountains and seeing them destroyed has been harrowing". M.B.

Forever tied to this magical place where art and nature meet in perfect balance, Marta founded a relief project to contribute to the rebirth of Arte Sella in a concrete way.
Burato for #iloveartesella
Thus, the #iloveartesella project is born: a 23kt gold leaf sheet, symbol of a deep connection between nature and art, to be carefully applied on your chosen tree. A sign to mark a new start, shared on social media with the #iloveartesella hashtag to raise further awareness on the project and the damage made by climate change on the Dolomite forests.

This way gold, the most precious and rare of metals, becomes a metaphor for beauty and purity: transferred onto tree trunks, to recreate the pathways of Arte Sella. A delicate element, yet impactful: perfect for leaving a mark.
"With the gold leaf you can trace your path and your future way. The leaf becomes a true print of those who want to contribute to the rebirth of the forest". M.B.
Several artists of international fame also sustain this project, among which: Mario Brunello, Avi Avital, Giovanni Sollima, Neri Marcorè, Marco Rizzi, Danilo Rossi, CollettivO CineticO.

The entirety of the proceeds from the gold leaf has been given to Arte Sella, to contribute to the rebirth of the open air museum.
From Italy to the World
In 2018, after an unprecedented success of the collections, Burato decided to join the International market by participating in the Vicenza Oro Fair. The surprising success of the brand led to an accelerated creation of a network of over 150 resellers in Italy and more than fifty worldwide.

In June of 2019, the first monobrand Burato store opened in the spectacular city of Venice.

Now, Burato presents its collections at major European trade fairs, Vicenza Oro, Inhorgenta and Fashion Paris.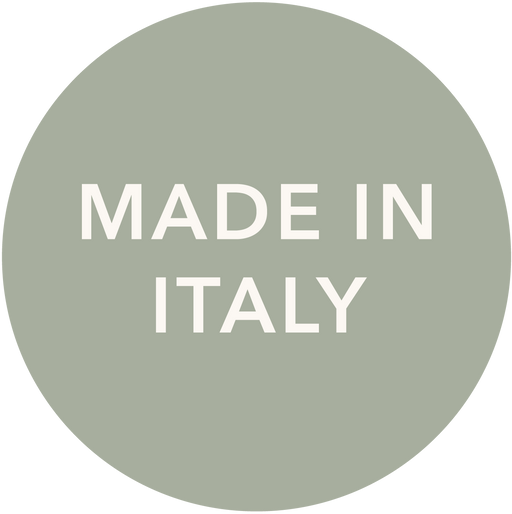 Craft jewellery production
Burato jewellery are fully produced handmade in Italy (Traceability & Fashion Made in Italy Certification).
Respect & Sustainability
One of the first jewelry brands to reach 100% of responsible gold purchasing for production
(CoC gold Certification).
Make your soul speak
Every day explore yourself and all the sides of your personality with kindness and essentiality.